Message from the President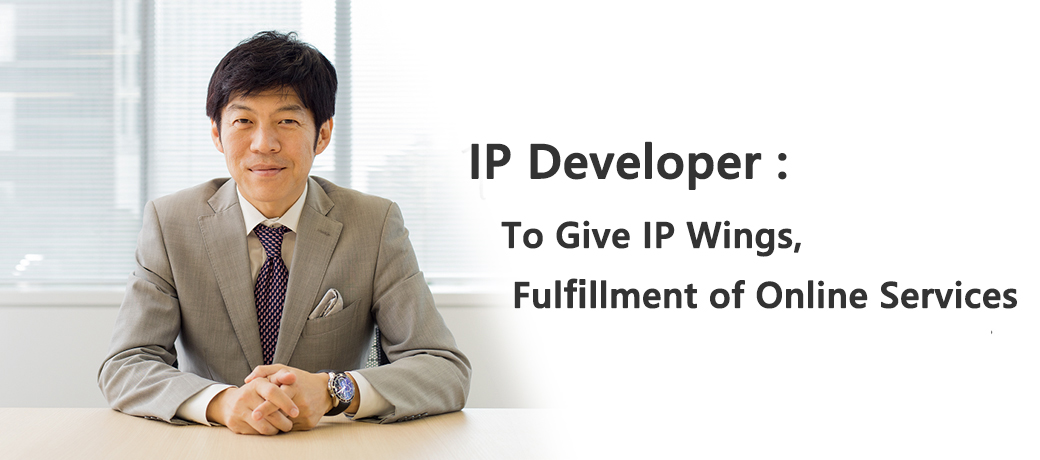 IP Developer: To Give IP Wings, Fulfillment of Online Services
We are extremely grateful for your ever-present and considerable support.
Our company was founded in 2007 as a content producer mainly dealing in the production and sales of trading card games. Carrying out media mix projects such as "Weiss Schwarz", a trading card game that involves a large number of anime and game IPs (Intellectual Properties), "Milky Holmes", a new style IP that synergizes real-life voice actresses with their characters, as well as the ever evolving "Cardfight!! Vanguard", a media mix IP that breaks the normal boundaries of a trading card game. Furthermore, we continue to grow and probe the current trends of today through the subsidiary acquisition of "New Japan Pro-Wrestling", online mobile game platform "Bushimo", and establishment of our subsidiary mixed-media companies, we have put forth titles such as "BanG Dream!" and "Revue Starlight".
Our group holds "IP Developer" as our business strategy, which is a media mix service that elevates the IPs through different methods as if we give wings to the IPs. While maintaining the operation of the existing IPs, we expand our services by creating and adding new IPs every year. The July 2021 term will be the year where the new IPs such as "D4DJ", "ARGONAVIS from BanG Dream!", and "Assault Lily" will spread their wings and fly high. We will expand the range of our services and endeavor to maximize the satisfaction of our customers through the continuing investment in the IP development and actively exploring the alliance with other IP related companies.
As of August 2020, while live concerts, pro-wrestling matches, stage performances and various events are under restrictions due to the COVID-19 pandemic, our group is anticipating any possible situations in the future and trying our best to adjust flexibly to the changes. On the other hand, it seems that less people are reluctant to purchase paid contents such as music concerts, stage performances, pro-wrestling matches, and talk shows because of COVID-19. Responding to those needs, we are improving our streaming contents by creating live atmospheres that differentiates from regular streams, so that our customers will have a new valued experience.
It has been a new norm where "Online" is an important infrastructure as it is the center of everyone 's daily life, and it is said that COVID-19 fast forwarded the coming of this new norm. In the entertainment industry, accelerating diversification and globalization of information on resources will result in diverse and global expansion of hobbies and entertainments. We believe that the lifestyle, where people find their favorite contents, while creating communities with others who share similar values through social media, will grow all over the world. This means that our IP services could be one of the entertainment categories which the world might choose.
Thanks to everyone's support, it has been a year since our listing on the Tokyo Stock Exchange at the end of July 2019. I believe it was a year where all our employees had a stronger sense for contributing to the society, and as a part of it became more aware of compliance and ESG. In addition to that, we see a stronger sense of initiative in each team within our company, where they set their own goals and are motivated to achieve that on their own.
In the midst of an ever-changing era, the Bushiroad Group will continue to create our own unique values.
August 2020
Bushiroad Inc. President
Yoshitaka Hashimoto